The Dashboard is essentially your 'home' inside Amberlo. It's where you are directed after signing into the application. You will get a personalized look at how your (and your team's) most important metrics and goals are trending, as well as quickly add important tasks and check your upcoming events, see activities feed and recent items. Let's see what you can find here:
View of Amberlo Dashboard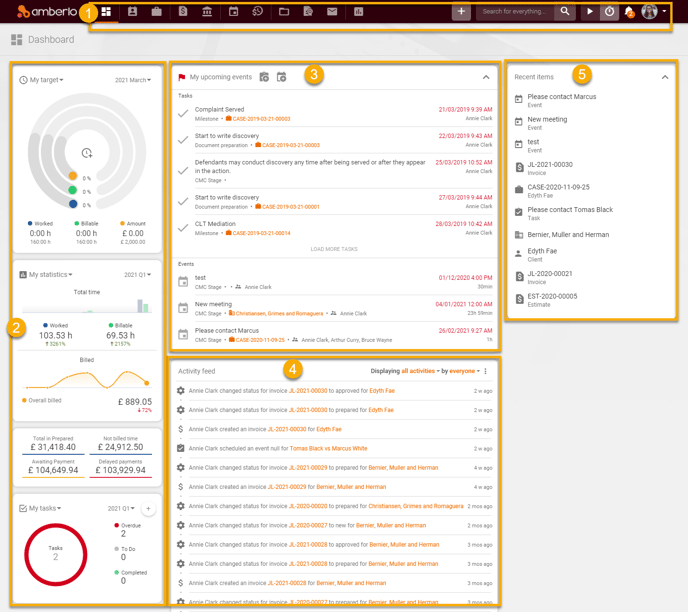 1. The Main Menu. This is where all your actions start every day. Every menu item provides access to different modules, quick actions (read more), global search (read more), global timer (read more), notifications (read more), and settings (read more).
2. Analytics Widgets. Here you can see how you and your team are performing, so you can make better business decisions (read more).
We know that most law companies have high-level metrics (such as worked/billable time) that they need to be able to quickly monitor multiple times per day or week.
Analytics Widgets — featured directly on your Home page, Client page or Matters page — allow you to do just that. They're always up-to-date, so you'll have instant insight into your performance and finances.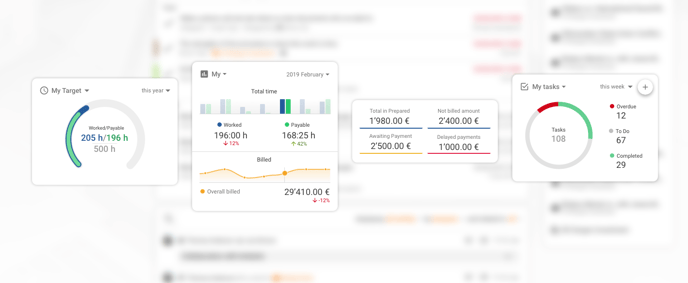 3. Open Tasks & Events. Here you can see your open tasks and upcoming events (read more).
4. Activities Feed. The Activities feed shows you who is doing what during the day. Also, it keeps a complete history of all the changes to the data (read more).
5. Recent Items. The recent items list shows you your most recently opened items, so you always have quick access to them. It will only show you recent items you have visited, not items other members of the Account have visited (read more).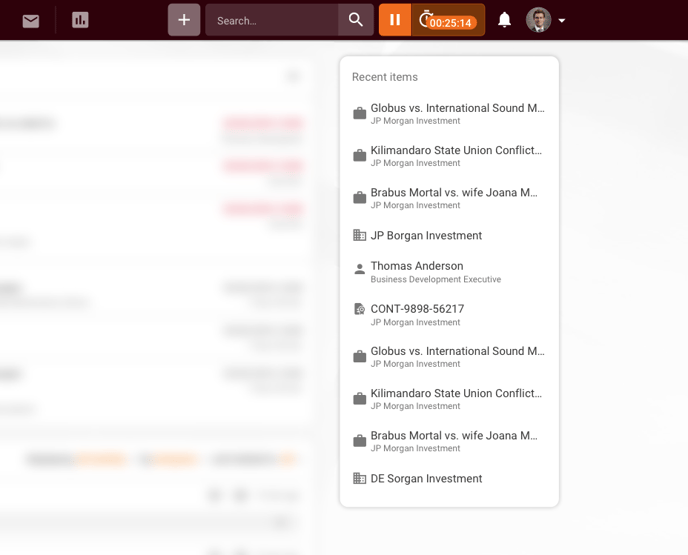 We hope this will help you to start using it smoothly. If you have any questions or feedback, please feel free to contact us via support@amberlo.io. We are always happy to hear from you!