Contacts in Amberlo are all of the people and companies that you work with within your practice.
Let's see how to add Contacts to Amberlo and how to navigate all of the options available on your Contact cards.
Adding Contact Information
There are several options of how to add a new Contact:
1. Contacts Tab.
Go to the Contacts tab (1) and click on either the 'New Company' or 'New Person' button (2).
New Person button:

New Company button: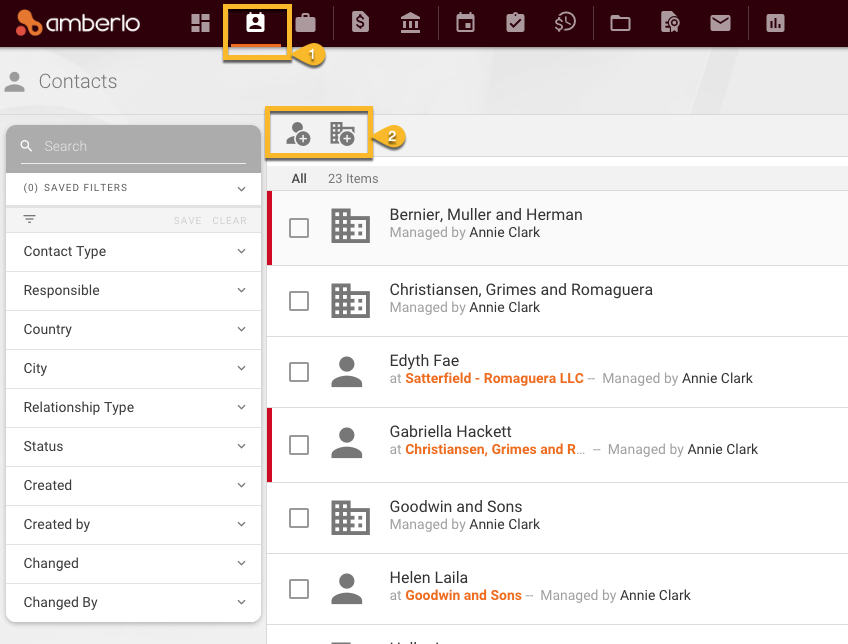 2. Quick Add button.
You can also add new Contact by using the Quick add button. This button is always accessible on the top right corner of your screen, no matter where you are in Amberlo. More about the Quick Add button read here.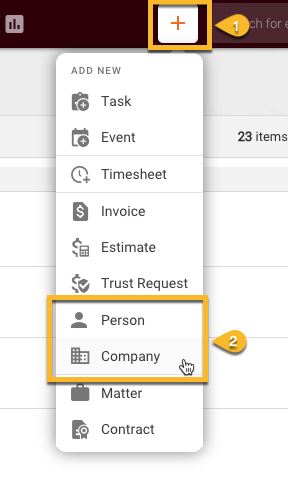 Amberlo will then display the New Person or New Company lightbox. Enter the Contact information and click the Save button to add this Contact to your Amberlo:

Additional fields that we suggest you complete
1. Address
The address that you add to the contact's details will automatically appear on the bills that you generate.
2. Custom Fields
You can add Custom Fields to the Contact card. It allows you to add any type of information you need to your Contact. Custom Fields can be used to filter your Contacts list.
Custom Fields are only available to our Premium and Elite subscribers.
For more information about Custom Fields, see here.
We hope this will help you to start using it smoothly. If you have any questions or feedback, please feel free to contact us via support@amberlo.io. We are always happy to hear from you!