Notifications in Amberlo are set on a user-level, so each user will be able to customize these settings to suit their needs. You can turn on web alerts and e-mail alerts.
How to access Notifications Settings?
1. Go to the General Settings by clicking on your profile picture on the top right corner.
2. Click Notifications in the left-hand menu:


View of Notifications Settings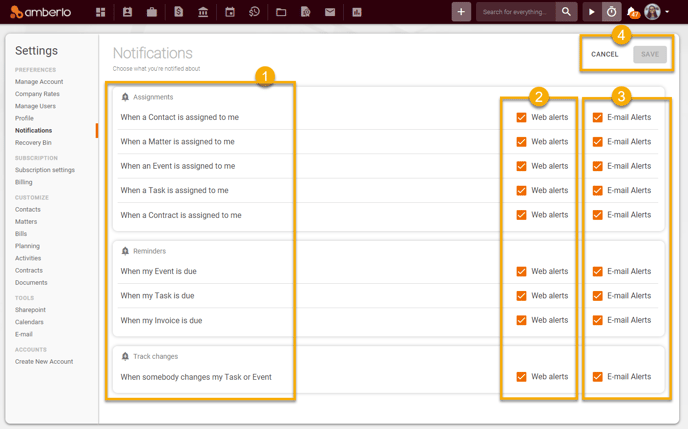 1. You can set to receive these alerts:
Assignments - when Contacts, Matters, Contracts, Events or Tasks are assigned to you.
Reminders - when your Task, Event or Invoice is due.
Track changes - when somebody changes your Task or Even.
2. You can set to receive Web Alerts. Web Alerts will be visible on Amberlo:



3. You can set to receive E-mail Alerts - selected alerts will be sent to your e-mail box.
4. Cancel and Save buttons are used to cancel or save your changes.
How to set Notifications?
1. Mark or unmark selected checkboxes.
2. Click the button Save: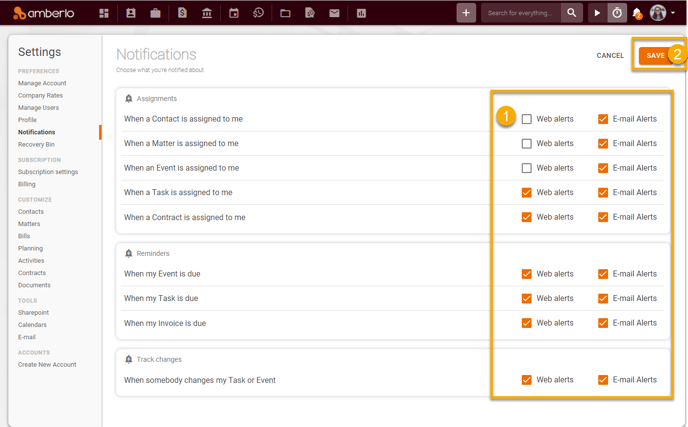 We hope this will help you to start using it smoothly. If you have any questions or feedback, please feel free to contact us via support@amberlo.io. We are always happy to hear from you!