Amberlo has an option to set a Fixed Fee Budget for a Matter. With this type of budget, all related matter bills will be billed as fixed-fee service with all included timesheets.
Note: Fixed Fee Budget is available only for Premium plan users.
1. How to Set Fixed Fee Budget?
1. Go to the Matter card, Main information tab and click the edit button

in the Budget widget: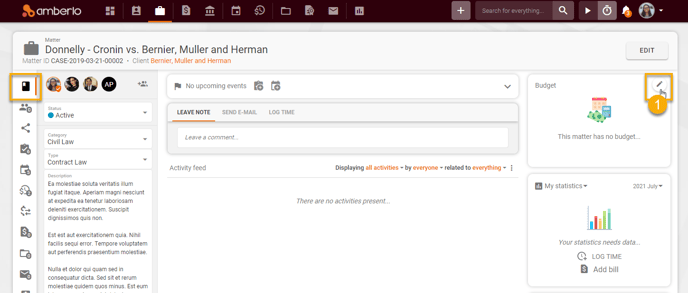 The system will navigate to the Matter Budget Settings:
2. Mark the checkbox Set budget for this matter.
3. Select the Type - Fixed fee.
4. Enter the budget Amount.
5. Enter Fixed fee service description.
6. Select the Budget Period - Lifetime or Monthly.
7. Mark (or unmark) the checkbox Show alerts if the budget was or will be exceeded. Once this checkbox is marked, you will receive alerts every time you add timesheets or expenses if your budget is exceeded.
8. Mark (or not mark) the checkbox Notify users when matter reaches selected amount of budget.
9. Click the button Save to save your changes: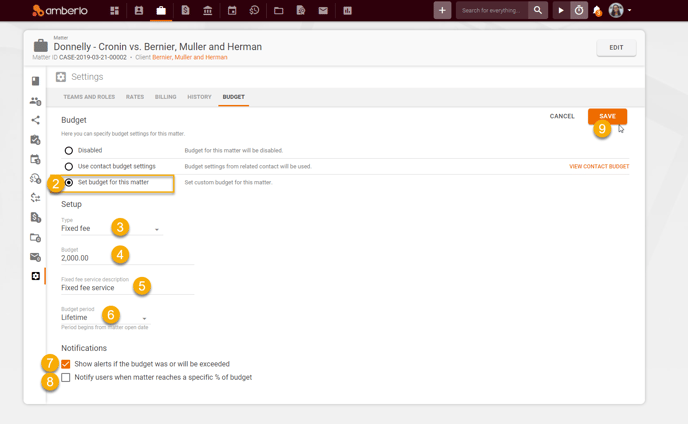 2. How to use a Fixed fee budget?
Once the Fixed fee budget is enabled, the Budget widget will display the set Fixed fee budget amount and used amount. You can also add here Timesheets using the button, or access budget settings by clicking the edit button

: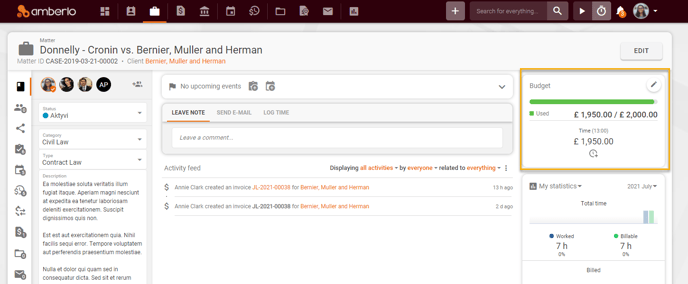 You can create Timesheets directly from the Budget widget by clicking the button

, or add Timesheets from the Activities tab.
Note: Timesheets will be created using general company rates or Matter rates (if they are set for the Matter). When you create a bill, the rates will be recalculated according to the set fixed fee amount.
1. Create Timesheets. Timesheets are created in the usual way. When creating timesheets, you will see the general company rates (or Matter rates if they are set):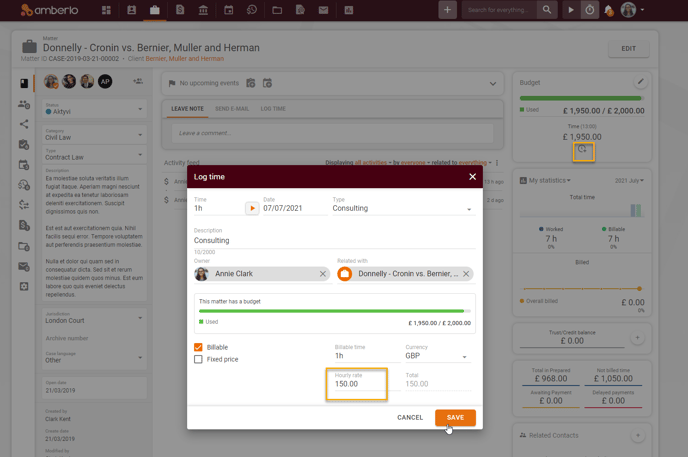 2. Add Timesheets to the invoice. Once you have created Timesheets, you can create or mass generate Bills. Amberlo will automatically add a Fixed fee budget item in Invoice creating window: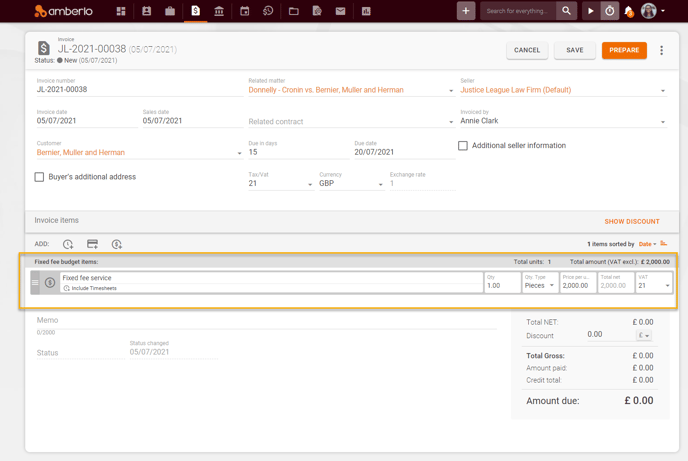 2.1. How to create a Fixed fee invoice?
Click the button

(1), add selected timesheets (2), and click the button OK (3):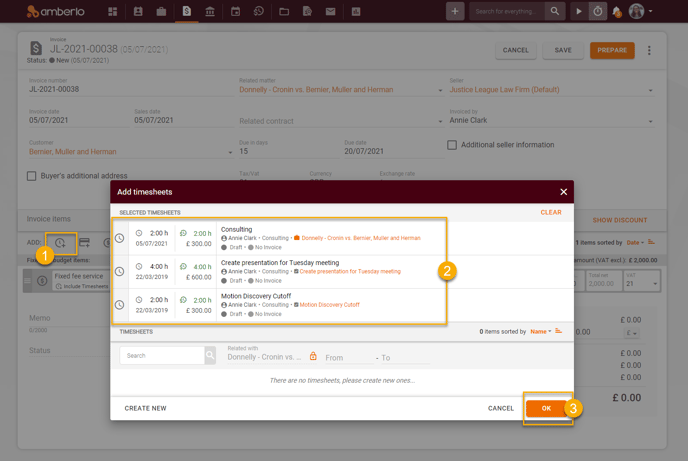 Selected Timesheets will be added to the Fixed fee budget. Amberlo will automatically set the Price (the same as set in settings). You can leave this amount or change it manually: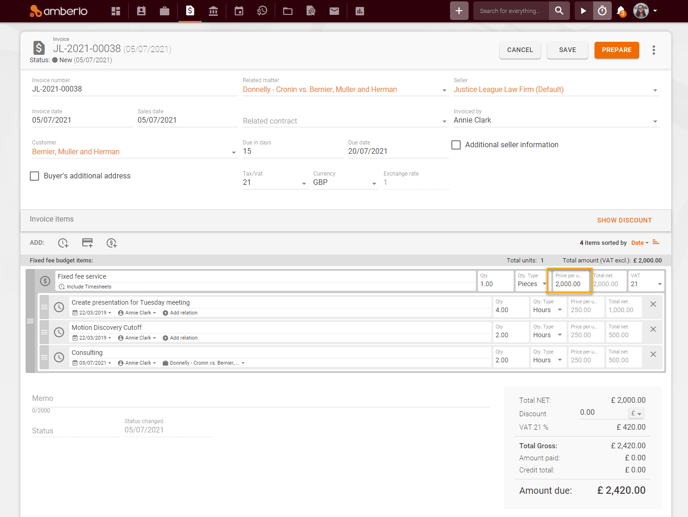 If you change the amount to a lower amount, the system will automatically charge the remaining unused budget amount when generating the next invoice: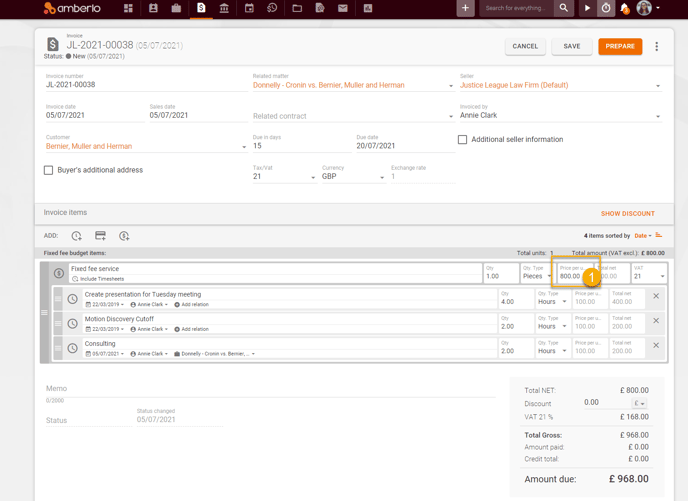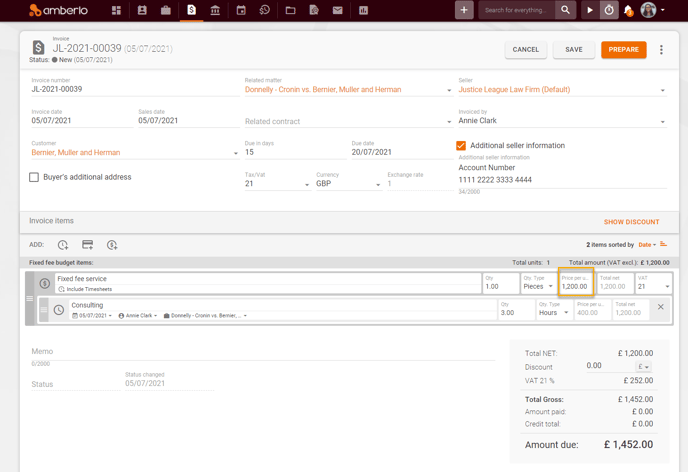 2.2. How to bulk generate Fixed fee invoices?
Go to the Matter Activities list and mark selected Timesheets.
Click bulk action Generate bills: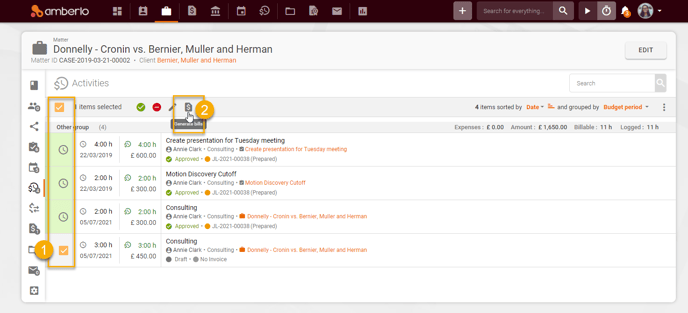 Amberlo will generate a selected Bill and will apply the fixed fee Price.
For more information on how to enable Budget, click here.

We hope this will help you to start using it smoothly. If you have any questions or feedback, please feel free to contact us via support@amberlo.io. We are always happy to hear from you!