Amberlo finally gets a long-awaited feature to simplify everyday billing for you. Now it's easier than ever to generate invoices quickly and then immediately send them to your clients right from Amberlo. You will no longer need to download the invoice as a PDF file and attach it to an email sent through the firm's regular email program. The Invoice Document can be sent as soon as you prepare it, right from Amberlo.
Once the invoice is finalized with any changes that may have been needed, simply click on the icon Send Invoice:

You can choose:
Send Invoice - the option to directly email an invoice to your client. Invoices display a list of service items alongside the total amount a customer must pay.

Send Reminder - a late payment reminder option you can use to send to your client.

Whatever option is selected, an email will be generated for the client according to the template you specified. All Invoice Email Templates are created or modified here:
General Amberlo Account Settings: go to Amberlo Settings → Bills -> Sending: the templates created here will be used for all outgoing invoices;
or
Contact or Matter Settings: go to Contact or Matter Card -> Settings → Billing: if you want to add a custom message to be included when emailing the invoice.
Note: only an administrator has the right to create or make changes to Invoice Email Templates.
Once you click on Send Invoice or Send Reminder, you will see a preview of the email message along with the link to an invoice (as detailed below). If you need you can attach the invoice in PDF format as well: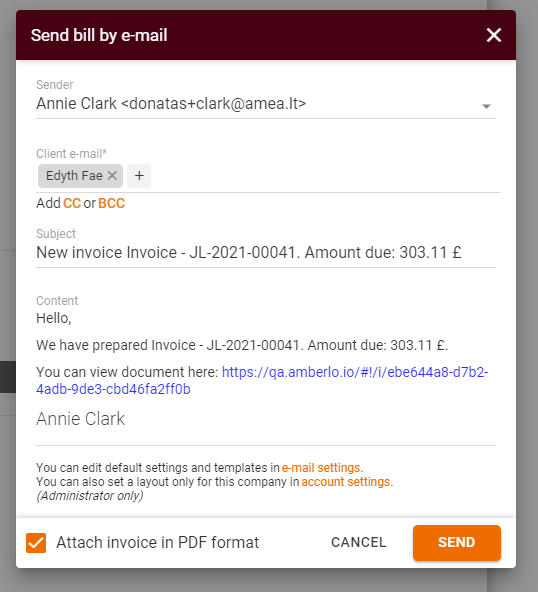 Here you can add additional recipients, change the sender address, or adjust the content of the message.
We hope this will help you to start using it smoothly. If you have any questions or feedback, please feel free to contact us via support@amberlo.io. We are always happy to hear from you!