Before sending invoices via email you have to configure email settings for sending bills. Go to Amberlo Settings (1) > Bills (2) > Sending (3) to set general settings and customize your email template when you mail invoices to your customers: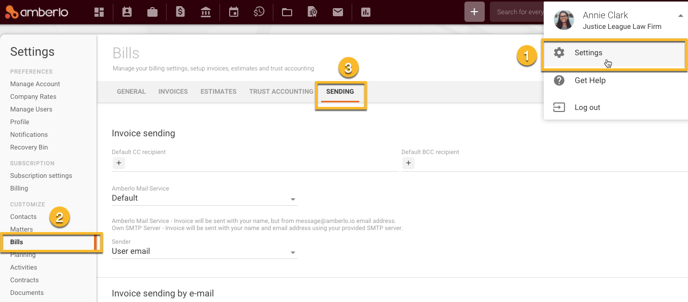 Customizing General Email Settings for Outgoing Bills
Cc Recipient - enter the CC email address to which copies of all emails will be sent.

Default (BCC) Recipient - enter BCC email addresses that every outgoing email will be sent as an anonymous copy (BCC).

Amberlo Mail Service:

Default Amberlo Email - the same email you use in Amberlo.

SMTP Server - you can also use an SMTP server to send mails. Using SMTP allows you to send emails via external servers. You will need the SMTP server's hostname, login credentials, and the used port and security method.

The Credentials of the Sender:

Default Amberlo Email Address: the sender's email will be indicated as the sender, including name and surname.

Firm's Email Address: the sender's email will be indicated as the general firm's email.
We hope this will help you to start using it smoothly. If you have any questions or feedback, please feel free to contact us via support@amberlo.io. We are always happy to hear from you!