Amberlo email feature is a time-saving way to track your business email conversations. You can associate an email to your Contacts and Matters, so you'll have a full overview of everything that's happening with a prospect in one place. Of course, you need to have some Contacts & Matters in Amberlo in order to link Emails. But once you have them, it's easy to set up your Email. Here's how to do it:

1. Go to the Amberlo Settings by clicking on your name in the top right corner (1):

2. Choose Settings (2):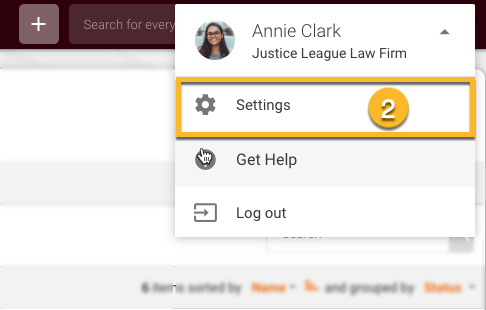 3. In the left-hand Settings menu, click Email (3) and enter your email address. Press Connect: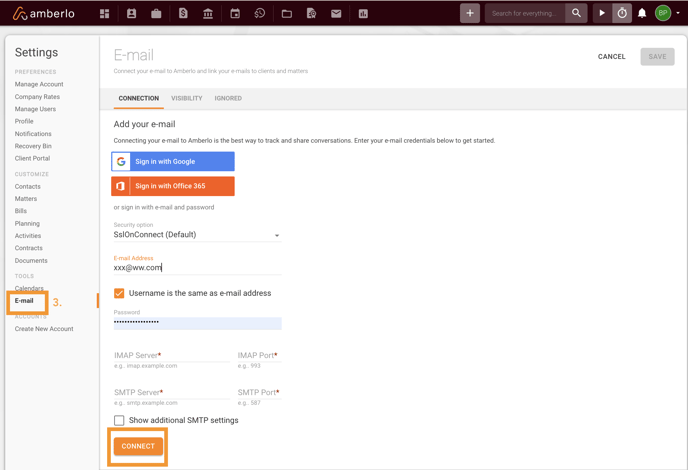 4. Once you are connected your email to Amberlo you can start to use this function. Go to the Emails module (4). In the tab UNTRACKED EMAILS, you will see all emails that are not linked with any contact. You can use the buttons Add Person, Add Company, or Relate with Contact (5) to relate selected email with selected contacts:

5. Once you have contacts & matters in Amberlo, and you already linked your emails to selected contacts, all emails that you or your client sent, will be in Amberlo, and no more need to switch between your email program and Amberlo. Here in Inbox (6) you'll see all emails already associated with your Client/Contact. If you want to link the email to a Matter too, just press three dots on the right-hand side and relate the selected email to the selected matter (7), or make other changes you need:

Here you go, now you are ready to track every important detail of your Client communication!
We hope this will help to start using it smoothly. If you have any questions or feedback, please feel free to contact us via support@amberlo.io. We are always happy to hear from you!